| | | |
| --- | --- | --- |
| Welcome | | You are not currently logged in. |

PRESS RELEASE
The Ballots have been counted for Executive Vice President. Per the By-Laws, XIV Nominations and Elections of Local Officers and Vice Presidents, Section 4(a), "The Executive Vice President who shall be elected by majority vote". No majority vote today. There will be a run-off ballot mailed for your vote. Voting begins August 1, 2018 - August 22, 2018. Ballots will be counted on August 30, 2018. - The Election Committee
CWA/VERIZON CONTRACT EXTENSION PROPOSED UNTIL 2023
EXPLAINATION MEETINGS HAVE BEEN SCHEDULED FOR THE FOLLOWING:
NORTHERN VIRGINIA - WEDNESDAY, JULY 25, 2018, 6-8PM, 5 COUNTY COMPLEX CT, WOODBRIDGE, VA
HAMPTON ROADS - MONDAY, JULY 30, 2018, 7PM, 154 NEWTOWN ROAD, VIRGINIA BEACH, VA
CENTRAL VIRGINIA - WEDNESDAY, AUGUST 1, 2018, 6PM, 5809 LAKESIDE AVENUE, RICHMOND, VA
Also, a summary has been included with the ballot for your vote. Voting is
July 25, 2018 - August 3, 2018. Ballots will be counted August 9, 2018.
Social Committee Event
HELPING EACH OTHER IS WHAT UNION (CWA) IS ALL ABOUT!

The Social Committee & Community Serivces Committees
have joined together to hold a
"Hurricane Disaster Relief Fundraiser".
PLEASE COME AND JOIN THE FUN!!!
QUANETT GOFF 804-514-3411
INESA SCRUGGS 804-306-7024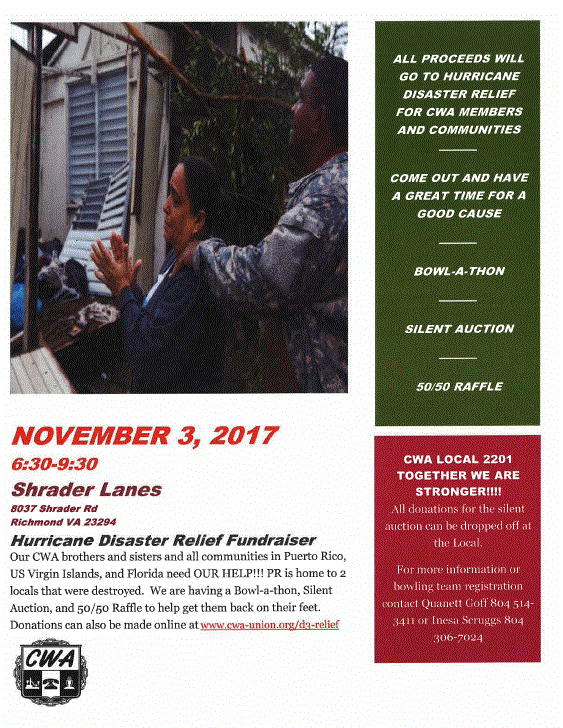 Election Committee
---
FROM THE ELECTION COMMITTEE:
Brothers and Sisters,
Ballots were counted on Friday, October 6, 2017. Below is the official results.
---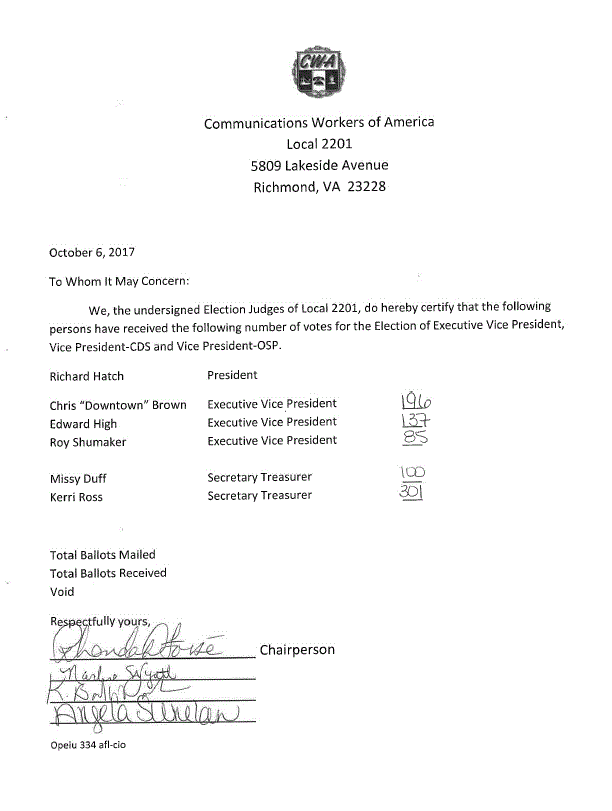 The position of Executive Vice President was not decided with the count. A run-off election will be held in order to follow the by-laws. Kerri Ross has been confirmed as the Secretary/Treasurer for 2018-2020. All of the nomination's meetings have been held and there will be an election for the position of Vice President, Commercial Directory Services (CDS).
Ballots will be mailed Friday, October 13, 2017.
The balloting period is Saturday, October 14, 2017 until midnight, Saturday, October 28, 2017. If you do not receive your ballot please call the Local at 804-266-2201 or 757-456-2202. A duplicate ballot will be sent. Please be sure to exercise your right to VOTE...mark your ballot and send it in before the deadline. Instructions on how to vote are included with your ballot to eliminate any confusion.

-The Election Committee

VOTE TUESDAY JUNE 13TH
Today CWA endorsed Tom Perriello for Governor. Tom was the only gubernatorial candidate who came out and supported our striking workers at AT&T. ( see picture below) NO other gubernatorial candidate, Democrat or Republican, even bothered to call. CWA has talked to all candidates who would talk to us and Perriello is the clear choice for Governor and we support candidates who support us! On Tuesday, June 13th, the Primary will be held in Virginia. Please make plans to go vote in this very important primary and VOTE FOR PERRIELLO!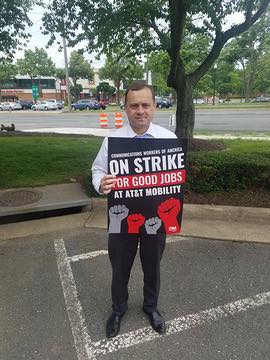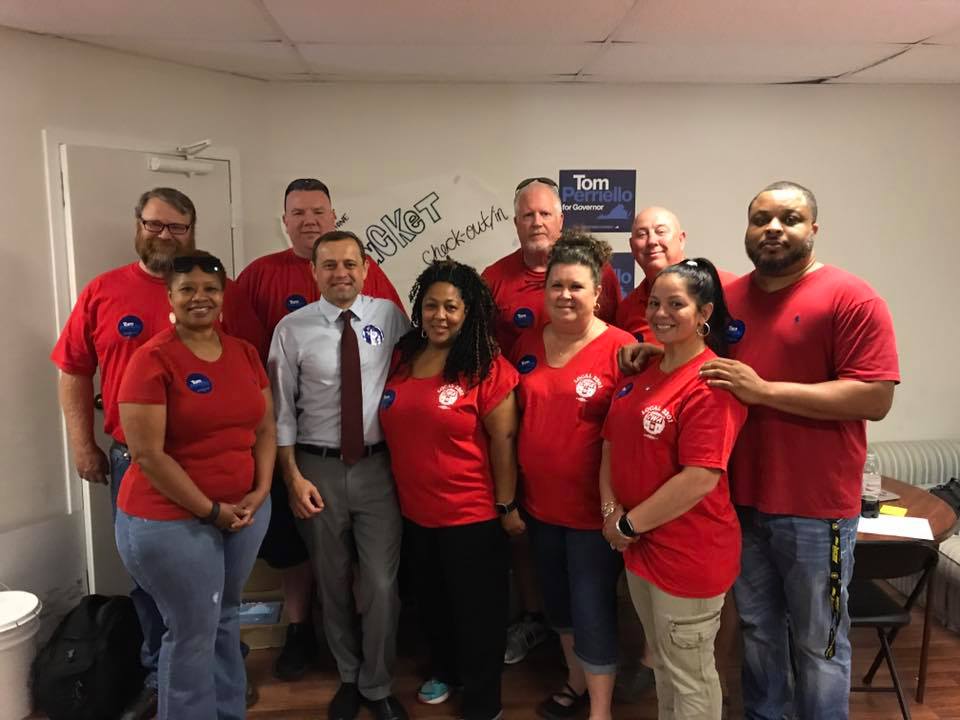 Strike at AT&T Mobility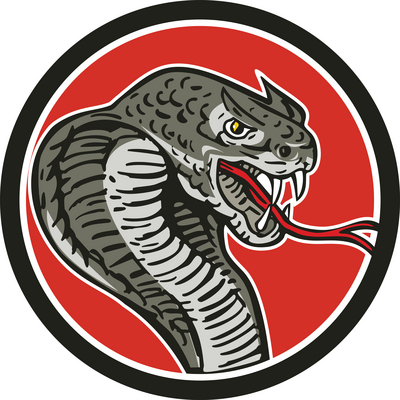 As of 3PM, AT&T Mobility is officially ON STRIKE!!!!!! All Mobility employees should vacate their work location and report for picket duty at 3PM. AT&T must be shown that the workers make the company run and that we deserve fair treatment and compensation. SOLIDARITY FOREVER!
As of 3PM, AT&T Mobility is officially ON STRIKE!!!!!! All Mobility employees should vacate their work location and report for picket duty at 3PM. AT&T must be shown that the workers make the company run and that we deserve fair treatment and compensation. SOLIDARITY FOREVER!
AVAYA HEALTHCARE FIGHT!
AVAYA RETIREES: Please see the attached memo regarding healthcare changes and CWA's fight. Please send CWA info that they may receive. Fax 804-266-8572 united@cwa2201.
Read More...
American Red Cross
Local 2201 is happy to announce that we have reached an tentative agreement on a Local contract with American Red Cross.  This is a first agreement and builds on much of the economic benefits bargained in the National Addendum.  A summary of the agreement will be sent out shortly.  This agreement must still be ratified by the members and plans for that vote are being finalized now.
Read More...
Service Emergency
For Verizon Members: Verizon has notified the union that it has declared a Service Emergency effective immediately for Eastern Virginia due to impact of Hurricane Mathew. This is for both FiOS and Copper.
Read More...
Special EISP for Verizon
Attached is a listing of surplus declarations in the Potomac Region. The Company intends to offer the Special EISP. Volunteers will be accepted as necessary to meet business needs. Also attached is a listing of employees who will receive the Special EISP offer. Packages will be distributed to employees beginning today August 23, 2016.
Read More...
AT&T Mobility
For release July 20, 2016 Contact: Candice Johnson, CWA Communications CWA: It's Time for AT&T to End its Demands for Health Care Cuts at Mobility Washington, D.C. -- CWA's AT&T Mobility bargaining team is working to negotiate a new national bargained benefit plan covering 45,000 AT&T Mobility workers.
Read More...
2016 Maisano Scholarship Now Accepting Applications
The Vincent and Patricia Maisano Labor Scholarship Award application is now available for 2016. The scholarship in the amount of $1,000.00 will be awarded to one individual who submits an application, supplies evidence of attending college the following semester, and is a CWA District 2-13 member or the spouse, child or grandchild of a CWA District 2-13 member.
Applications are due to the CWA District 2-13 office in Philadelphia, PA by March 31, 2016. The winner is selected through a random lottery.
Full details, directions, and an application are attached below!
Download:

Award Orgin 2-13.PDF ,

application16.pdf ,

directions_for_filing_application-2-13_16.pdf
YOUR ACTION NEEDED!
WEAR

RED

ON THURSDAY
WEAR BLACK ON FRIDAY!
SHOW THE
COMPANY THAT
YOU

ARE THE UNION

!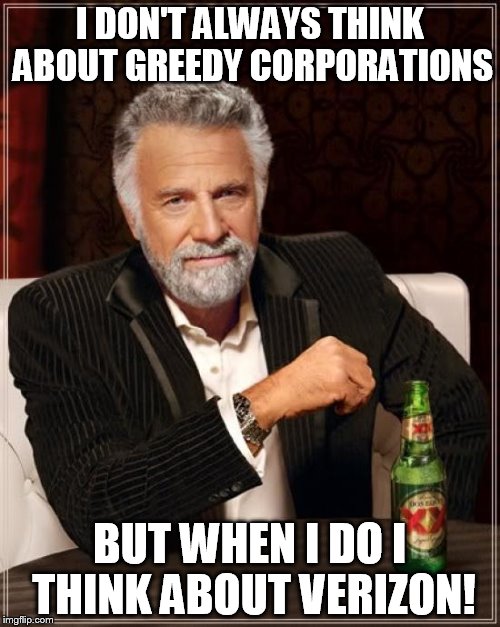 American Red Cross Unionizes
Red Cross Votes CWA
CWA Local 2201 would like to welcome new Brothers and Sisters to our Local from The American Red Cross Blood Services. Yesterday employees voted 113-35 to form a Union and join our Local. A special thank you to Stephanie Pazur for working hard to assist these workers in gaining a voice. Please welcome these new union members into our local.
AT&T Legacy TENTATIVE AGREEMENT Reached
AT&T Legacy - No Strike Yet. Keep Mobilizing. Stay Informed. Apr 14, 2015 2pm Legacy T Bargaining Update The Contract has expired. We are continuing to bargain without a Contract. There can be no business as usual. While we are still negotiating, we are very angry with the lack of movement at the table. However, we are committed to keeping our Members earning a pay check and keeping the Company off balance while we continue to fight at the table and you continue to fight on the job. In Unity, Your Bargaining Team April 14, 2015 11:56 am Our Members at AT&T Legacy face a possible Work Stoppage at noon today. Bargaining for this nationwide contract has been going on for weeks and the contract has been extended until Noon today. For those members at Legacy AT&T, you will be contacted as soon as we hear anything regarding a work stoppage with further instructions.
Read More...
Joe Beirne Foundation Scholarship Program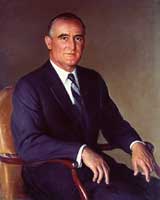 Fifteen partial college scholarships of $3,000 each are being offered for the 2016-2017 school year. Winners, selected in a lottery drawing, also will receive second-year scholarships of the same amount contingent upon satisfactory academic accomplishment. Part-time students, less than 12 credits, will receive half of the scholarship monies.
Eligible for the awards are CWA members and their spouses, children and grandchildren, including those of retired or deceased members.
The final deadline for applications is April 29, 2016.
To learn more about this scholarship visit cwa-union.org.